MARKET OUTLOOK - DECEMBER, 2019
Leather Footwear Top Exporter
Leather Footwear is the 56th most traded product in the world.
The total amount of exportation amount at $51.3B.
The top exporters of Leather Footwear are China ($12.3B), Italy ($7.32B), Vietnam ($6.06B), Indonesia ($2.6B) and Germany ($2.47B).
The top importers are the United States ($10.6B), Germany ($5.07B), France ($3.68B), the United Kingdom ($3.1B) and Italy ($2.75B).
Leather Footwear is the top export of Albania.
Leather Footwear is also known as shoes, flip-flops.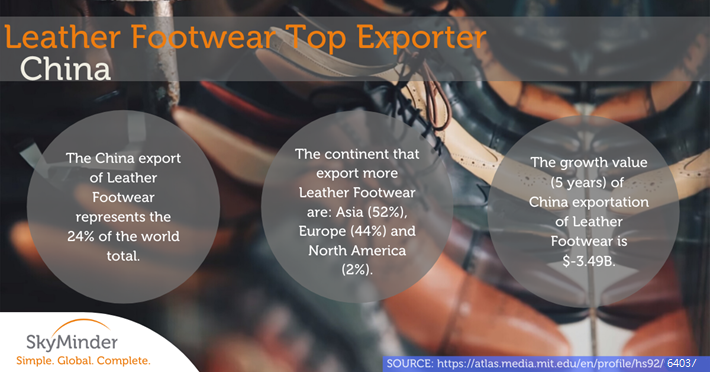 Source: SkyMinder
SkyMinder, is the CRIF platform allowing the global market to access commercial risk data and take better business decisions on worldwide companies. Through SkyMinder, you can access in-depth credit risk, financial and business information on over 200 million of companies over 230 countries worldwide.
---
CRIF's Credit & Risk Management Solutions can help you to identify quality business partners and minimize credit risks. Contact CRIF NOW to get more details!