MARKET OUTLOOK - SEP, 2019
Sunglassess Top Exporter
Sunglasses are the 400th most traded product.
The top exporter of Sunglasses is Italy ($2.77B), followed by China ($2.61B), the United States ($327M), Japan ($213M) and Germany ($158M).
The top importers of these good are the United States ($1.54B), Hong Kong SAR ($669M), Italy ($467M), France ($427M) and Germany ($334M).
The Italian export of Sunglasses represents the 40% of the global one.
In fact, Sunglasses embody the 21% of the Italian entire exportation.
Italy exports its Sunglasses mainly to USA (28%), France (9.5%) and UK (6.9%).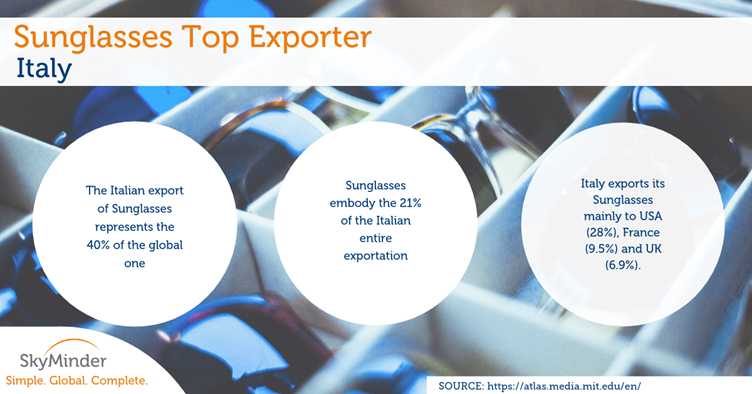 Source: SkyMinder
SkyMinder, is the CRIF platform allowing the global market to access commercial risk data and take better business decisions on worldwide companies. Through SkyMinder, you can access in-depth credit risk, financial and business information on over 200 million of companies over 230 countries worldwide.
---
CRIF's Credit & Risk Management Solutions can help you to identify quality business partners and minimize credit risks. Contact CRIF NOW to get more details!