MARKET OUTLOOK - MARCH, 2022
Cotton Import/Export
According to the latest OEC data available, Raw Cotton in 2019 was the world's 226th most traded product, with a total trade of $15.4B.
In 2019 the top exporters of Raw Cotton were United States ($6.13B), Brazil ($2.64B), India ($1.1B), Australia ($1.09B), and Greece ($589M).
On the other hand, instead, in 2019 the top importers of Raw Cotton were China ($3.18B), Vietnam ($2.29B), Bangladesh ($1.9B), Turkey ($1.56B), and India ($1.18B).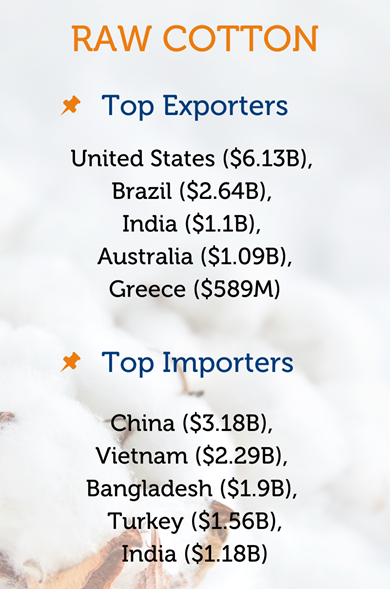 Source: SkyMinder
SkyMinder, is the CRIF platform allowing the global market to access commercial risk data and take better business decisions on worldwide companies. Through SkyMinder, you can access in-depth credit risk, financial and business information on over 200 million of companies over 230 countries worldwide.
---
CRIF's Credit & Risk Management Solutions can help you to identify quality business partners and minimize credit risks. Contact CRIF NOW to get more details!