Membership and certifications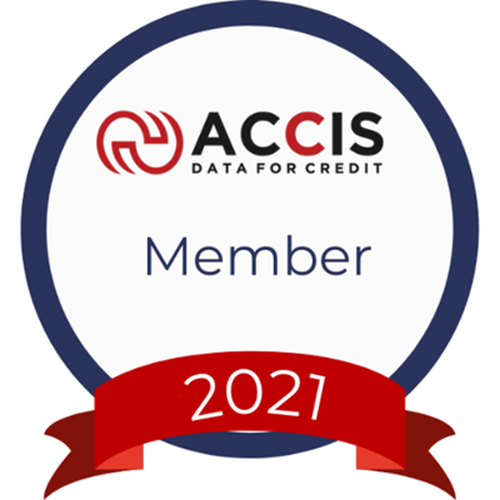 ACCIS
CRIF is a Member of ACCIS - the voice of companies responsibly managing data to assess the financial credibility of consumers and businesses. Established as an association in 1990, ACCIS brings together more than 40 members from countries all over Europe as well as associates and affiliates across the globe. For more information: accis.eu

ANCIC
CRIF is a member of ANCIC (Italian Association of Business Information and Credit Management Companies). ANCIC member companies operate in the area of collection, analysis and assessment of economic and financial data relating to Italian companies. The objective of the association is to offer its customers an accurate assessment of the solvency and financial capacity of companies with which they have business relationships. Established in 1971, ANCIC includes 30 member companies, representing over 90% of the volume of business in the reference market.
For more information, contact www.ancic.org

ASSOVIB
CRIF is a founding member of ASSOVIB, the Association of Italian Property Valuation Companies, which represents the main Italian companies providing valuation services to banks in relation to real estate used as mortgage collateral. In turn, ASSOVIB is a Board Member of TEGoVA (European Group of Valuers' Associations), the  non-profit organization which brings together 60 valuers' associations from 33 countries. TEGoVA represents more than 70,000 valuers in Europe, and is responsible for the European Valuation Standards, cited by the European Central Bank as the reference standards for Asset Quality Review.
For more information, go to www.tegova.org - www.assovib.com

BIIA
CRIF is a Member of the Business Information Industry Association (BIIA). Formed in 2005 in Hong Kong, BIIA is a trade association for the information content industry. The principal objective of BIIA is to provide a platform for members to network and to work on common issues facing the industry in the region. Today BIIA has over 30 members and is affiliated with a large number of industry associations providing a significant platform for networking.
For more information visit www.biia.com

CCRWC
​CRIF is an Associate Member of the Consumer Credit Reporting World Committee (CCRWC). CCRWC was created during the 1st Consumer Credit Reporting World Conference, held in Rome in 1998. It comprises Credit Reporting Agencies from America, Asia, Europe, Oceania and Africa, and membership includes: associative organizations, private as well as state/institutional organizations that manage consumer credit bureaus.

EACRA
​CRIF is a Member of EACRA – the European Association of Credit Rating Agencies. Registered in Paris, the Association was established in November 2009. Members of the Association currently originate from 8 European countries and have very different business models for the assignment of ratings. All are deeply rooted in their respective markets, enjoy a high market share and a good reputation with local investors.
For more information visit www.eacra.fr

ECBC
CRIF is a member of the European Covered Bond Council (ECBC), the European platform which brings together operators from the covered bond market. Established in 2004 by the European Mortgage Federation (EMF), the ECBC has over 100 members across more than 25 active covered bond jurisdictions.  For more information, go to www.ecbc.eu
EUROFINAS
CRIF is an Associate Member of Eurofinas, the European Federation of Finance House Associations, and the voice of consumer credit providers in the EU. As a Federation, Eurofinas brings together associations throughout Europe that represent finance houses, specialised banks, captive finance companies of car, equipment, etc., manufacturers and universal banks.
For more information visit www.eurofinas.org

FCIB
​CRIF is associate member of FCIB, the premier internationally recognized Association of Executives in Finance, Credit and International Business, provides critical export credit and collections insight, practical advice and intelligence to companies of all sizes—from Fortune 500 multi-nationals to medium and small private companies. With a membership of over 1,100 global credit and trade finance professionals in 55 countries around the world, FCIB offers unique networking and educational opportunities, enhancing professional careers and improving company competitiveness and the bottom line.
For more information visit: https://fcibglobal.com/

FEBIS
CRIF is a member of FEBIS (Federation of Business Information Service), a federation with more than 80 worldwide members providing business information and debt collection services, both nationally and internationally. As well as monitoring changes to data protection and bankruptcy rights legislation, FEBIS supervises the correct use of public information sources.
For more information, contact www.febis.org

FIABCI
CRIF is a member of the International Real Estate Federation (FIABCI), the federation of global real estate associations, and is a meeting point for entrepreneurs and professionals from the entire real estate market. FIABCI was founded in Paris in 1948, and now has a presence in 65 countries. Its members include more than 3,000 individuals, 65 academic institutions, and over 100 national real estate associations.
For more information, go to www.fiabci.it

RICS
CRIF Real Estate Advisory srl, the CRIF Group company specializing in performing the role of Independent Expert, has obtained the title of "RICS regulated company", indicating adherence to the principles that RICS promotes on a global level: transparency, ethics and professionalism. RICS is a world leader in accreditation and the definition of international standards in all areas of real estate.

UNIREC
​CRIBIS Teleservice, the CRIF Group company specializing in the outsourced management of debt collection, is a member of UNIREC, the association that brings together credit protection service companies in Italy, which in turn is a member of FENCA, the Federation of European National Collection Associations. UNIREC brings together around 200 companies, representing over 85% of the Italian debt collection market, and in 2014 it established the UNIREC-CONSUMER FORUM together with the Italian consumer associations Adiconsum, Cittadinanzattiva, Federconsumatori, Movimento consumatori, and Movimento difesa del cittadino.
For more information, contact www.unirec.it 
​CRIF has always paid the utmost attention to and invested in quality and security, as they are fundamental components to its mission and an integral part of its values and corporate culture.
ISO 9001:2008 certified Quality Management System
CRIF Spa, CRIF Services Spa, CRIBIS Credit Management Srl, CRIBIS D&B Srl and CRIF REAL ESTATE ADVISORY Srl have received UNI EN ISO 9001:2008 quality certification from the international certification body DNV (Det Norske Veritas).
A certified quality management system is a critical requirement for the management of company processes, and for improving the effectiveness and efficiency of developing products and delivering services, ultimately aimed at achieving maximum customer satisfaction.
Information security - ISO 27001:2013 certification
CRIF SpA has also obtained ISO 27001:2013 security certification from DNV.
Certification of the Information Security Management System is aimed at protecting data from internal and external threats in order to ensure data integrity, confidentiality and availability, and to guarantee clients, whether they be credit institutions, companies or private citizens, that CRIF has adopted adequate internal processes and measures to protect their information and to minimize any potential security risk.
Software Development - CMMI Maturity Level 3 certification
CRIF SpA; IT Solutions has been appraised at Level 3 of the CMMI Institute's Capability Maturity Model Integration for Software Application Development by QAI India Limited, which certifies process optimization for the development of software applications. This is a further guarantee to clients of the quality of CRIF's management of its activities, and of the quality of its results.
Payment Card Industry - Data Security Standard
CRIF has obtained PCI-DSS (Payment Card Industry – Data Security Standard) certification for the management of credit cards, an essential requirement for affiliation with the major international brands Visa, Mastercard and American Express. Compliance with the standard ensures maximum security and reliability of the CRIF services payment management process for payments made by credit card.

Business Continuity: managing its work and safeguarding that of its clients
In order to protect its clients and to provide a high quality service, both from a qualitative and quantitative point of view, the CRIF Group has adopted a Business Continuity Management system, which ensures the business continuity of its companies, even in the case of various kinds of critical events (including technological, structural, organizational).
The CRIF Group Business Continuity Management system was developed according to the BS25999 standard and with constant reference to Banca d'Italia directives so as to produce a result for its clients which is compliant with binding obligations.
Occupational health and safety - OHSAS 18001 certification
CRIF Spa, CRIF Services Spa, CRIBIS Credit Management Srl and CRIBIS D&B Srl are OHSAS 18001 certified, where OHSAS 18001 is the international standard for occupational health and safety.
OHSAS 18001 certification, held by relatively few companies in Italy, verifies the voluntary application of a system which guarantees due diligence in relation to the health and safety of the workers within the company as well as compliance with binding regulations, and demonstrates the commitment of the company to its employees, who work on a daily basis for the success of the CRIF Group.