CRIF Big Data Analytics is an international knowledge center supported by a Data Management Factory in Pune, India. The platform (also available to clients) is characterized by high scalability and state-of-the-art technology in data crunching and machine learning. Leveraging on data science, business and data protection skills, CRIF is able to maximize the value of data, at the same time ensuring innovation and full compliance with personal data protection and security standards.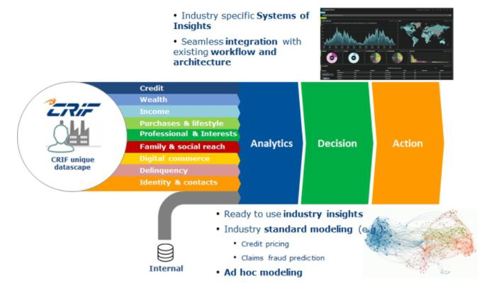 CRIF's Enterprise APPs enable business users to easily leverage big data and advanced analytics to change everyday decisions and boost business performances in Sales & Marketing, Credit and Operations. CRIF enables businesses competing in the information era to reduce costs and lift revenues by using industry specific enterprise APPs based on its Advanced & Big Data Analytics Platform. Each APP is a full blown solution from data to predictive analytics to decisioning of a specific business issue that CRIF tackles providing configurable software products and consultancy to create an industrialized solution integrated with legacy and operational systems.
Having over 25 years of experience in Predictive Analytics and Big Data with customers in 50 countries, CRIF has developed best practices for decision management that help our clients maximizing benefits from insights and decision support solutions.
Advanced & Big Data Analytics: the CRIF difference
A unique view of individuals and markets: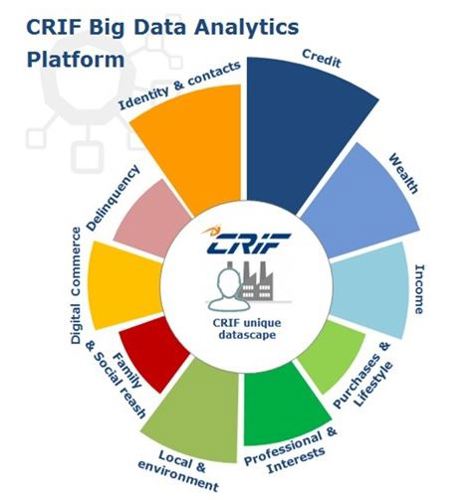 Advanced & Big Data Analytics
Credit Bureau Scoring Systems
If you are a credit bureau or data/information provider, find out how we can help you introduce to your market an analytic, objective and easy-to-implement solution for your customers to make better, faster decisions.
Risk & Regulatory Advisory
Credit risk management experts who provide advisory services for governance, risk assessment and management, compliance within the context of the risk appetite framework.
Process & Strategy Optimization
Putting our knowledge into practice by helping our customers analyze and improve the efficiency and effectiveness of business operations and strategies in every phase of the credit lifecycle, from engagement and origination to customer management and debt collection.
Marketing
Marketing and benchmarking solutions help our customers attract, retain and grow their customer base by leveraging data and applying predictive analytics.